Permanent building results from a temporary building used for production and storage
2013-11-26 00:51:00
2016-07-08 09:24:11
What do you do when the council refuses you permission to have a temporary building with a PVC roof, installed at your premises?
Have one with a steel roof instead!
Just as these people have, as you can see here.
As well as which, because they are using it for storage AND production, they wanted the added insulation you get with insulated steel roof panels.
Because it's one thing having a temporary building installed for storage of goods, but when it comes to having people working inside, it's a different kettle of fish altogether.
For starters, if you put heating into a temporary building with a PVC roof, it's pretty obvious you are not going to get cost-effective results.
Whereas the insulation properties of a steel roof makes for a very well insulated environment which drastically reduces heating costs.
Of course, unlike a temporary building with a PVC fabric roof, you really must have a level concrete base, otherwise; you can't get the roof to fit correctly.
As well as which, if you are planning to use it for years and years to come, as opposed to a few months, then it's obvious too, the steel panels will easily outlast a PVC roof.
And the results speak for themselves.
As you can see, it doesn't look like a temporary building, but the beauty is; it can be dismantled and re-located just like the ones with a PVC fabric roof.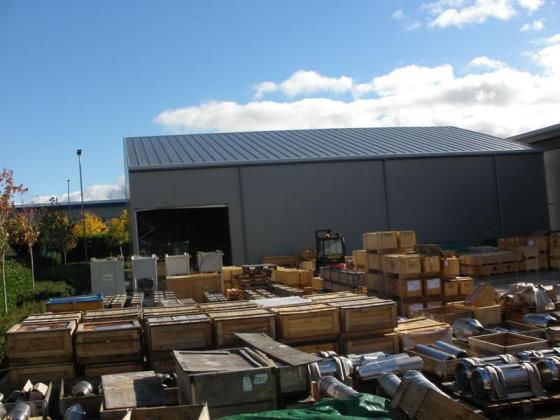 So if you're going to need some additional space in the coming months, and you've got a level concrete area on site where you could have one installed, let us know and we'll happily send you a quote over.
And you can hire, buy, or hire then buy; whichever suits you best.
As you can see, it's all about choosing the best building to suit your specific application, period of use and budget.
Which is why we offer the three types of 'temporary' buildings, as opposed to just the one type you might be familiar with.
Anyway, keep it in mind, and if something does crop up, this could be just the thing for you.