Running a business is all about making smart decisions and taking advantage of opportunities for cost-effective expansion.
2018-10-03 04:26:00
2021-01-30 17:09:47
Running a business is all about making smart decisions and taking advantage of opportunities for cost-effective expansion. In order to do this and promote the growth of your business, you need sufficient space to carry out operations and store your goods. Whether you are looking for agricultural buildings, warehouses, school buildings, sports facilities or extra room for emergency storage, we have the right solution for you.
Here are three examples of how we've addressed diverse customer requirements using pre-fabricated building solutions:
1) Temporary Shipping Terminal

One of the most interesting of our recent temporary building projects, this extensive temporary terminal was built to accommodate cruise liners arriving in Liverpool. We had a challenging timescale for completion and were faced with an urgent need – so a temporary solution was the perfect fit.
With a customised interior layout, steel clad walls and PVC roof, the building is a comfortable embarkation and disembarkation point for customers arriving at Pier Head. The terminal is intended for two years use and is part of Liverpool City Councils campaign to attract greater traffic from cruise vessels to the city.
The full case study can be read here.
About Our Temporary Buildings
This type of building is ideal for storing non-sensitive products, in cases where insulation is not too important or when no heating or cooling is necessary. Featuring a relocatable aluminium frame, PVC roof and steel wall cladding, the building can be put up in days and used for three months to three years. The flexible design of our modular temporary structures, particularly the PVC roof system, makes it possible to put a building up on almost any ground surface.
2) Semi-Permanent Steel Roofed Storage Warehouse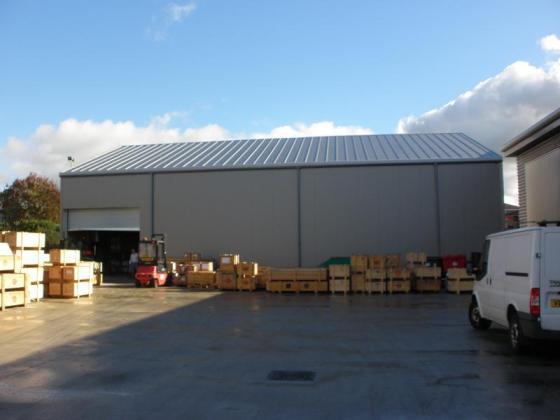 This interim or semi-permanent storage building was built for EU Weatherford to provide additional warehousing space. The client required a more durable solution than our strictly temporary buildings, and had previously had problems obtaining planning permission for temporary buildings with a PVC fabric roof.
The steel roof on this aluminium framed building satisfied the requirements of the local authority and allowed the business more space on their premises to accommodate growth. As the premises already had a level concrete base as part of their yard, the building was fast and straightforward to construct.
The building (which was acquired on a rental agreement) can be used for five years or more with the same level of security and stock protection is a more permanent structure, with the advantage that it can be deconstructed and relocated if required – and involved no capital outlay.
Read the full case study here.
About Our Interim Buildings
This type of building features a relocatable aluminium frame, steel roof, and wall cladding and requires a concrete base. The building is insulated, making it suitable for use in situations where products are sensitive to temperature fluctuations or where heating or cooling is required. Although the facility can be used for between three and seven years, it is relatively fast to erect and dismantle. The building is available on both hire and purchase terms. Some major advantages of semi-permanent interim buildings (compared to temporary buildings) are increased security, better stability and cost-effectiveness and improved insulation.
3) Permanent Steel School Sports Hall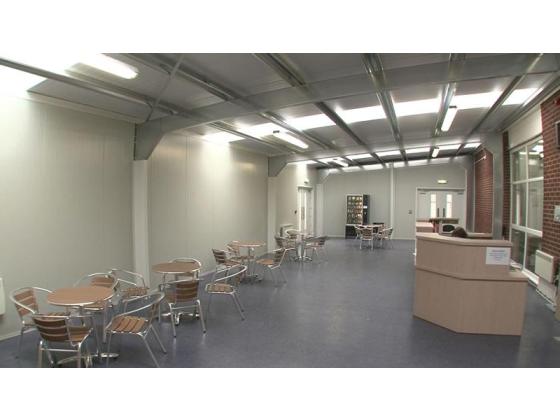 We built this permanent steel framed building as a sports hall for Kingsbury Secondary School. The school needed improved sports facilities but were operating within a tight budget and also needed minimal disruption for teachers and pupils.
The entire process from design, planning application to construction to just over four months and allowed lessons to continue as normal without undue noise. The resulting sports hall is as durable and heat efficient as a brick permanent building, with the advantage of having been custom-designed to meet the school's needs.
You can read the full case study here.
Permanent steel buildings can also be put to use as loading bays, office complexes, vehicle showrooms, cold storage units, warehouses and other purposes. Speak with us to find out more.
About Our Permanent Steel Structures
Our steel framed and steel clad buildings are designed for 7 to 30 years of use. The buildings are installed on a level tarmac base or concrete pad, no footings or foundations are necessary. The steel used in making the structure is available in different gauges to provide greater insulation and promote comfortable conditions by accommodating heating and cooling systems. They are also just as secure as any other conventional building.
Request A Quote
At Smart-Space we provide quality temporary buildings that comply with all the relevant UK building codes. Get in touch with us today for a quote and let us help you realise your goals. For more information you may also like to download our free eBook: The Temporary Buildings Guide.